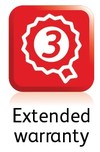 Internal components are rigorously tested
within specialist test laboratories to withstand
and all weather conditions.







All models supply high levels of efficiency
ranging from 83% to 107% with burner
modulation down to 2.4kW.






Technologically advanced PCB system ensures
temperature accurate hot water delivery, efficient gas usage & numerous
safety features.





Frost protection is fitted as standard on all
Rinnai appliances, safeguarding your water
heating against the elements.