The following dimensions should be used as a guide to determine whether your toilet pan is suitable to accept a Kleanstreet bidet seat.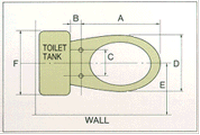 A : 420-460mm
B : 40mm minimum
C : 120-210mm
D : 365-400mm

E & F not applicable

Once you have determined the dimensions are suitable, you just need to check that the top surface of the pan is flat and level with no ridges, mouldings or bumps within the dimensions as these will not allow the mounting plate to sit properly. Some pans have a ridge along the side by the seat holes and some have a kick-up towards the cistern which can get in the way. Ensure yours doesn't and the bidet seat should fit well.

Please call 020 300 65 300 if you require further technical assistance.